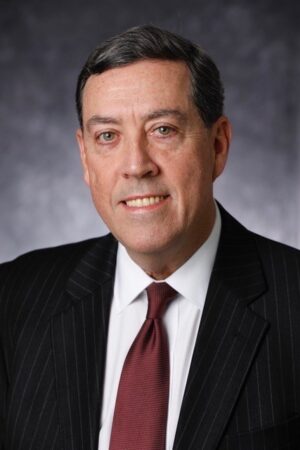 Professional Affiliations:


Mr. Meehan graduated from the United States Merchant Marine Academy with honors in 1976. After graduation, he sailed as Third, Second and Chief Officer aboard American Flag, oceangoing vessels. He earned his law degree at Boston University School of Law and joined the firm in 1984.
Mr. Meehan has more than 30 years experience handling all types of marine claims. He has developed a particular expertise in all types of marine casualties, and is well versed in casualty-related issues such as general average, limitation of liability, salvage and OPA 90 liabilities. Chambers USA notes that his ability to "handle major litigation sensibly and effectively" has elevated his reputation to such an extent that several commentators described him as the "best in the firm."
Chambers USA 2018 reports sources declaring Mr. Meehan a "premier casualty lawyer", valued for being "really pragmatic and upfront."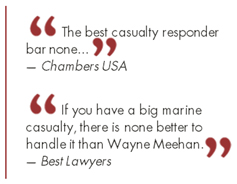 Chambers advises that, according to impressed clients, he is "the best casualty responder bar none" and he is "very good at managing major litigation, dealing with the authorities and maintaining an overview of the situation in different locations…" He is noted by Chambers for his "down-to-earth and quietly effective" approach and clients advise that he approaches cases with a "high level of energy" and has the ability to "rapidly grasp the important issues and what's needed." According to Chambers, "he is praised for his first-class knowledge of the 'technical aspects of shipping' and for his deep knowledge of the industry."
Clients advise Best Lawyers that he "is reassuring, usually when all around are under stress," and that, "if you have a big marine casualty, there is none better to handle it than Wayne Meehan."
Mr. Meehan has extensive experience representing clients at U.S. Coast Guard and National Transportation Safety Board hearings. He has tried cases in Federal Court throughout the country and has handled various appeals to the United States Court of Appeals for the Second Circuit. In addition to litigation, Mr. Meehan has assisted clients in negotiating and drafting charter parties, contracts of affreightment, shipbuilding and ship repair contracts, and joint venture agreements.
Chambers USA - America's Leading Lawyers for Business, Transport Litigation, 2005-2019 (Band 1)
Euromoney's International Trade and Shipping Guide, 2015, 2019
Who's Who Legal: Transport 2015, 2020
The Best Lawyers in America Guide, Maritime Law, 2007-2020
Chambers Global - The World's Leading Lawyers for Business, Shipping, 2006, 2007
Expert Guides Best of the Best USA, 2008, 2010-2018
The International Who's Who of Shipping and Maritime Lawyers, 2009-2012
The Legal 500 - USA, 2009, 2017, 2018, 2019
New York Super Lawyers Magazine, 2007-2017
Martindale-Hubbell, AV Preeminent Rating
Staten Island Ferry. Represented the City of New York, the self-insured owner and operator of the Staten Island Ferry, in limitation of liability action relating to a casualty in October 2003 when a ferry struck pier at full speed, causing eleven deaths and numerous injuries. The aggregate total of claims filed exceeded $3 billion. Also rendered assistance in connection with criminal prosecutions resulting from the incident. Tried salvage claim lodged by tug and crew which rendered assistance after the casualty, successfully limiting $8 million claim to an award of $46,000.00.
USS Porter / M/V Otowasan collision. Represented the owners of the M/V Otowasan which was involved in a collision with the USS Porter in the straits of Hormuz, where U.S. Navy initially asserted damages in excess of $100 million. After detailed evaluation of circumstances leading up to collision and extensive negotiations with the Navy and Department of Justice, the case was settled before trial.
Dredge New York. Represented owners of the Dredge New York which was struck by the M/T Orange Sun in Newark Bay. Tried case in Federal Court in New York resulting in Judgment for loss of use damages in the amount of $13.2 million. Taking into account amounts paid for physical damages, total recovery was approximately $20 million.
DG Harmony. Represented owner of DG Harmony in connection with the total loss of vessel and its cargo as a result of a fire and explosion resulting from combustion of a container of Calcium Hypochlorite off the coast of Brazil in November of 1998. After settling all cargo claims, prosecuted claim against PPG, the manufacturer and shipper of the Calcium Hypochlorite cargo. Tried the case in federal court in New York, resulting in decision in owners' favor assessing PPG with 100% fault, and judgment against PPG in excess of $58 million.
Athos I. Represents charterer of the Athos I in connection with oil spill in the Delaware River resulting in claims and clean up expenses in excess of $135 million.
Bright Field. Along with co-counsel in New Orleans, represented owners of a fully loaded bulk carrier which lost main engine power and struck shoreside hotel and shopping mall in New Orleans, Louisiana resulting in property damage claims totaling over $50 million. After filing a Limitation action in New Orleans, negotiated settlement of the property damage claims and coordinated overall handling including obtaining dismissal of majority of business interruption claims as well as personal injury claims.
Bow Mariner. Represented owners and operators of a product tanker which exploded off the coast of Virginia in February of 2004. The incident resulted in the loss of eighteen lives and total loss of the vessel. Coordinated overall handling, including investigation conducted by flag state, liaising with U.S. Coast Guard, oil spill clean-up, cargo loss claim, settlement of survivors' claims and criminal investigation by U.S. Attorney in Virginia.
Tug Rebel – DBL – 152. Represented owners of tug and barge unit which struck a submerged oil platform in the Gulf of Mexico which had been toppled over by Hurricane Rita. Tried the case in District Court for Southern District of Texas, Houston Division resulting in recovery in excess of $26 million.
APL Peru. Represents owners of APL Peru in connection with a hold fire while enroute from the Far East to U.S. West Coast with damage to containers estimated at $7.5 million.
Maersk v. CSX. Represented Maersk Line in New York arbitration relating to responsibility for containers lost over the side during three separate transpacific voyages resulting in recovery in excess of $4 million, including award of attorneys' fees.
Saudi Riyadh / USS Arthur W. Radford. Represented owners of a container vessel involved in a collision with a U.S. Navy destroyer involving damage claims in excess of $60 million. A three-week trial resulted in the granting of Limitation in owners' favor.
Saudi Makkah / USS Jacksonville. Represented owners of container vessel involved in a collision with a U.S. nuclear submarine, with damages in excess of $8 million. Trial resulted in apportionment of 80 / 20 in our clients' favor.