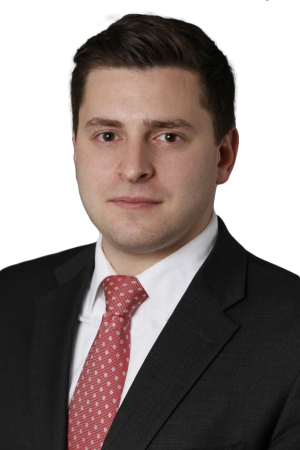 Professional Affiliations:
Mr. Adler is a 2010 graduate of the University of Texas at Austin. He subsequently graduated with honors from Tulane University Law School with a Certificate of Specialization in Maritime Law. During law school, Mr. Adler was a Member and Editor in Chief of the Tulane Maritime Law Journal, was a member of Tulane's 2013 Judge John R. Brown Appellate Moot Court Competition team, and served as a judicial intern to the Honorable David R. Jones, Chief United States Bankruptcy Judge for the Southern District of Texas. A summer associate with Freehill Hogan & Mahar in 2013, Mr. Adler returned to join the firm as an associate following graduation.
Focusing on a broad range of maritime and commercial matters, both in litigation at the state and federal level (trial and appellate) and in arbitration (SMA and AAA/ICDR), Mr. Adler's practice includes the defense of cargo loss and damage claims, collisions and casualties, marine pollution claims, charter party and bill of lading disputes, commodity sales contract disputes, and the exercise of provisional remedies, including arrest and attachment. Mr. Adler has also handled marine insurance coverage disputes and hull and machinery claims, and he devotes a significant percentage of his practice to the defense of personal injury and death claims brought under state law and under the Jones Act, Longshore and Harbor Workers' Compensation Act (including § 905(b) claims), the Defense Base Act, and the War Hazards Compensation Act. To this end, Mr. Adler has both conducted and participated in inspections and investigations on vessels, marine terminals and other locations in personal injury and death matters, marine pollution events, allisions, and other land-based and marine incidents.
Since graduating from law school, Mr. Adler has also continued to maintain a relationship with Tulane, annually serving as a mentor to current Junior Members of the Maritime Law Journal. In 2017, he was appointed to serve as a member of the Journal's Board of Advisory Editors. He has also been involved with planning for young lawyers at the biennial Tulane Admiralty Law Institute, where he has in the past served as a panelist and article author.
Languages:
Hebrew (conversationally fluent)
Representative Matters:
Assisted in the defense of an ocean carrier on claim for alleged seawater wetting to six trailers carrying mobile aircraft arresting systems, which were unpackaged on trailers and carried on-deck. Engineered Arresting Sys. Corp. v. M/V Saudi Hofuf, 46 F. Supp. 3d 302 (S.D.N.Y. 2014).
Assisted with breach of contract case on behalf of a freight forwarding company against a cargo shipper, resulting in summary judgment that awarded client recovery of liquidated damages. Hansa Meyer Glob. Transp. USA, LLC v. Simmons Edeco, Inc., No. 14-cv-3323 (JSR), 2015 U.S. Dist. LEXIS 51453 (S.D.N.Y. Apr. 13, 2015).
Assisted in defense of international crude oil and petroleum products trading company in multi-million dollar oil delivery contract dispute.
Assisted in representation of vessel owners, operators, and managers in claims brought under the Carriage of Goods by Sea Act.
Assisting in the defense of a vessel owner against claims under the Jones Act, arising from the death of a fishing vessel captain.
Assisted in the defense of a Jones Act personal injury claim, resulting in several appeals to New York's Appellate Division, Third Judicial Department, including Ronkese v. Tilcon N.Y., Inc., 153 A.D.3d 259 (3d Dep't 2017).
Defense of vessel owners, operators and ship managers in personal injury and death cases involving claims for Jones Act negligence, maintenance and cure, unseaworthiness, and maritime products liability; defense of marine transportation, marine construction, and marine insurance companies in personal injury matters involving claims for § 905(b) liability and compensation under the Longshore and Harbor Worker Compensation Act; and defense of employers and insurance carriers in connection with personal injuries arising under the Defense Base Act.
Assisted shipowners and vessel operators in drafting revisions to form bills of lading.
Assisted in the recovery of in excess of $850,000 on behalf of vessel owner over charterer's claimed force majeure defense in a case involving the wrongful termination of a charter party. In the Matter of the Arbitration between Pioneer Navigation Ltd., as Owner, and Chemical Equipment Labs, Inc., as Charterer, arising under a Charter Party of the M/V GENCO OCEAN dated December 4, 2014, SMA No. 4357 (2019), confirmation recommended by Pioneer Navigation Ltd. v. Chem. Equip. Labs, Inc., No. 1:19-cv-02938 (DAB) (SDA), 2019 U.S. Dist. LEXIS 214841 (S.D.N.Y. Dec. 11, 2019).
A Nail in the Coffin for Overtime Pay: The Fifth Circuit Clarifies the FLSA Seaman Exemption in Coffin v. Blessey Marine Services, Inc., 89 TUL. L. REV. 1243 (2015)
Regal-Beloit Revisited in the Reverse, 39 TUL. MAR. L.J. 197 (2014)
Situs Unraveled: Evaluating Methods for Determining Whether an Injury Site Qualifies as an LHWCA § 903(a) "Other Adjoining Area", 38 TUL. MAR. L.J. 147 (2013)
Come One, Come All: The Second Circuit's Messier Approach to Maintenance and Cure, 37 TUL. MAR. L.J. 605 (2013)
Coffin v. Blessey Marine: FLSA Coverage (or Not) for Tankermen and Other Seafarers, Panelist – 25th Biennial Tulane Admiralty Law Institute, New Orleans, March 2015