In Memoriam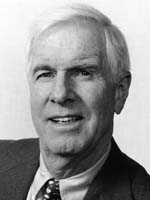 With deep sadness, but at the same time a sense of appreciation of a life well lived, we regret to announce the passing of George B. Freehill, the founding partner of our firm. George passed away peacefully with his family around him on Monday, July 20, 2020. It is perhaps an understatement to say that he lived an exemplary and remarkable life.
George graduated Fordham Law School in 1961 and while there, clerked for his father, Jimmy Freehill, a well-known and accomplished maritime trial lawyer and partner at Hill, Betts, Yamaoka, Freehill & Longcope. Upon graduation, George joined his father's firm as an associate, but after 6 months, he left to chart his own course, joining the firm of Buckley and Donahue, a firm which grew out of Theodore F. Turner & Co., a claims handling office set up by an English barrister to handle the West of England P& I club's affairs in the United States. That same year, Buckley and Donahue hired another associate, Bill Hogan.
George recognized early on that Buckley and Donahue, while a fledgling law firm, presented an opportunity for growth and development in working for West of England. As a first year associate, George travelled to London and met with West of England management, including the managing director, Richard Fort. George advised that while he recognized Buckley and Donahue's potential, he was contemplating going back to Hill, Betts to work with his father. Richard, and the rest of West of England management, were all impressed with George and, fearing they would lose him, asked if he would stay at Buckley and Donahue if he were offered a partnership. George declined, but committed to stay one more year. Theo Turner was thereafter admitted to practice in New York and Buckley and Donahue was re-named "The Law Offices of Theodore F. Turner." In 1963, at age of only 28, George became a partner in the firm. Hill Betts kept tabs on George and was impressed with his ambition, legal talent and business sense. That same year, when Jimmy Freehill passed away suddenly, Hill Betts offered George a partnership. He declined, instead opting to stay and build the type of firm he wanted.
Theo Turner retired in 1966 and the firm hired Bob Mahar. Under George's leadership, the firm then began the process of converting from a claims office to the world – recognized maritime law firm that it is today. In 1972, the firm name was changed to Freehill Hogan & Mahar.
By any measure, George had a remarkable career, full of interesting cases and legal successes. Though he had many accomplishments in the practice of law, he was most proud of the type of firm he built – a firm which we all refer to as the "Freehill family."
George was unquestionably larger than life. He was one of those unique personalities who could light up the room. He was strong, confident and decisive, but at the same time, he was compassionate and treated everyone with respect. He was a great lawyer and a great leader in our industry – but we will remember him as a great person. George loved his work and the firm he built, but anyone who knew him understood that his real love was reserved for his family. His eyes would light up when he spoke of his wife Barbara, his four daughters, their husbands, and of course, the grandchildren.
For those within our firm, George was a guiding light – a role model, a leader, a mentor, and most importantly, a friend. He was a true gentleman and we are all better for having known him.