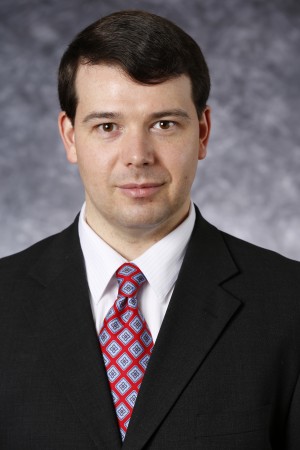 Professional Affiliations:
Eric Matheson brings a diverse maritime background to Freehill Hogan & Mahar. Mr. Matheson is a graduate of the United States Merchant Marine Academy, where he received a Bachelors of Science in Marine Operations and Technology, a marine transportation program enhanced with marine engineering studies. He served in the U.S. Navy on a guided missile frigate as both a deck and engineering officer. He holds a U.S. Coast Guard Unlimited Third Mate's License.
Following his service in the U.S. Navy, Mr. Matheson obtained his law degree from Villanova University School of Law, where he was Editor-in-Chief of the Villanova Environmental Law Journal.
Mr. Matheson works on a variety of matters, using his legal skills as well as his technical background in Marine Operations and Technology and his experience at sea on a variety of vessels. He has worked with Vessel Data Recorders (VDR) and other recording systems in accident reconstruction involving collision, grounding, sinking, and other vessel casualties. He has worked on cases involving modern vessel incinerators and oily water separators (OWS) which involve computerized data and the tracking of use and function of ship's equipment. He is active in both litigation and arbitration involving ship sale, vessel collision, electrical fires, power outages, sinkings, loss of cargo, safe port/safe berth warranties, and the mechanical failure of intermodal equipment, including cranes, tractors, brake systems, and refrigeration systems. He also has experience in cases involving sensitive chemical cargo contamination claims.  Mr. Matheson has been named a Rising Star in the field of maritime law from 2015 through 2019 by New York Super Lawyers, and in 2018 was listed as a recommended attorney by The Legal 500. In 2019, The Legal 500 named him as a "Next Generation Partner."
Performed collision investigation, VDR analysis, vessel traffic service data review, and accident reconstruction on behalf of vessel owner arising from collision in a congested waterway.
Working with ship owner in an Oily Water Separator / environmental pollution matter to expand shipping operations while under an Environmental Compliance Plan per agreement with U.S. government.
Assisted in successful representation of ship owner in charterparty dispute involving a claim for violation of the safe berth / safe port warranty, recovering in excess of $3M. M/V WESTWOOD ANNETTE, S.M.A. No. 4189 (New York 2012).
Assisted in the representation of a government-owned vessel in complex personal injury matter involving shipyard work and equipment certification.
Assisted in arbitrating matter arising from breach of contract for sale of vessel resulting in multi-million dollar award in favor of seller.
Assisted in successful representation of ship owner in cargo contamination claim, M/T STOLT PERSEVERANCE, S.M.A. No. 4205 (New York 2013).
Use of vessel "black box" and related technology and devices: Evidentiary collection and retention concerns., MARITIME LAW ASSOCIATION OF THE UNITED STATES CLE PROGRAM, May 2014.